Certifying Professionals Program
How to get Associate Plan for Privileges and Reward?
Be a Qcircle Certified Professional
Get job by speciality @ Qcircle.
---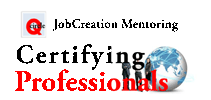 BE CERTIFIED WITH A JOB CREATION INNOVATION PLAN
Job Credential: Qcircle Certified with specialisation title.
Consortium Status: Associate @ Qcircle.
A fast track job creation initiative, the program inducts professionally qualified members/participants into Qcircle for service with their specialisation. On completion of the practice-based program, members can apply for a Professional Certification Award and be eligible to subscribe to an Associate Plan for business privileges and reward.
PRIVILEGES AND REWARD
All Certified Professionals (in any discipline) are affiliated with Qcircle and its Consortium of businesses. They are recognised professionally and granted opportunities to promote and or conduct Qcircle's education and business services.
Associate Plan allocates business privileges and a financial reward. See schedule on Consortium Associate Privileges and Reward.
---
Job Creation Innovation Plan by Specialisation
Program Features
The Program provides a fast track transformation of suitably qualified members to be certified for service with Qcircle.
DURATION
Part 1: Group Seminar and Forum. (3 + 3 hours)
Part 2: Mentorship Dialogue and Consultation (3 hours)
Part 3: Self Contracted Action Plan ( Project proposal submission.
Follow -up real project development for implementation.)
DELIVERY MODE
Online Webinar or Seminar at nearest Host's Location
Online Dialogue or consultation at nearest Host's Location
Mentoring Schedule as mutually agreed between mentor and mentee.
FOR WHO?
Professionally qualified persons or other recognised para professional institution members.
Educators, Entrepreneurs or Professionals in any discipline
PRIVILEGES
On completion, all participants are provided with a complimentary Upgrade to an Associate Plan at Associate @ Qcircle (Specialist Grade) for the year.
Associates are eligible to advance to a higher Associate Plan (Corporate).
Part 1: Introductory
EDUCATION PLUS BUSINESS DEVELOPMENT OPPORTUNITIES
A directed introduction day seminar provided by a country host wherever it is practical. It may be delivered online by a fellow Certified Professional / Mentor.
Part 2: Consultation
PREPARATION OF ACTION PLAN
Mentees work out an action plan with the Mentor for completion.
Part 3: Self contracted Action
PROGRESSION PROCESSES
Submission of an Integration Project Proposal ready for implementation at Qcircle.
Follow up schedule as mutually agreed. Mentees dialogue with Mentors for guidance.
Completion within 4 to 6 weeks.
Read more on the role of the Mentees and Mentors at the Mentoring Process.